tested for FIV, FELV, HCM, HD
( with super results)
HCM/DNA - NN -negative
gb. 13.11.2003
colour : red classic tabby d22
FATHER: EC.KOONTUCKY KING ARTHUR OF ESCAPE'S
MOTHER: EC & WW02 FIN*ESCAPE'S IZABELLA COONZALES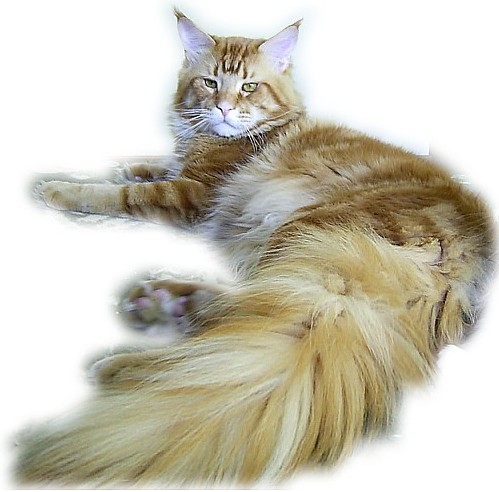 He is extremaly big !!!!!!!!!!!!!!!,
He has a very, very, very long body , extremely long tail and very strong bones :-)))
He looks as a dog because of his size.
He weighs almost 14 kilos at the age of 5 :-))))))
He gives kittens of XXL size , very typeful.
Never because of his character is my favourite cat son. All day long he is with me and all nights he spends in my bed.
Many of his kittens has a lot of success on their shows.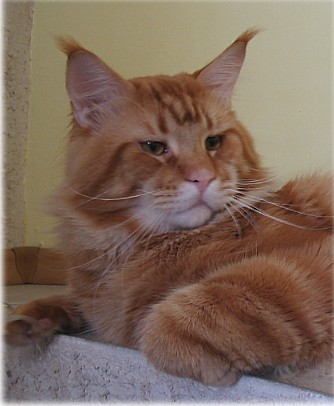 RESULTS ON SHOW

Seinajoki 6.03.2004 EX1, BIV, NOM BIS, BEST OF THE BEST
Jyvaskyla 14.02.2004 -Ex1, BIV, NOM BIS
Warszawa EX1
£ód¼ EX1
Kraków 05.06.2004 - Ex1, BIV, NOM BIS, BEST OF THE BEST
Kraków 06.06.2004 - EX1, BIV, NOM BIS, BEST OF THE BEST
Brno 25.06.2004 EX2
Wroc³aw 04.09.2004 EX1, BIV, NOM BIS
Wroc³aw 05.09.2004 EX1, BIV, NOM BIS, BEST OF THE BEST
£ód¼ 05.11.2004 EX1, CAC
£ód¼ 06.11.2004 EX1, CAC, NOM BIS
Opole 25.03.2005 EX1, CAC, BIV , NOM BIS
Never is Champion
Opole 26.03.2005 EX1, CACIB, NOM BIS
Warszawa 02.04.2005 EX1, CACIB
Ostrava 09.04.2005 EX1,CACIB
Never is Inter Champion
£ód¼ 14.05.2005 Ex1,CAGCIB
£Ód¼ 15.05.2005 EX1, CAGCIB, NOM BIS
Kraków 07.06.2005 EX1, CAGCIB,