Zac-ha-ree Silvi-Cola*PL
gb. 27.05.2007
tested for FIV, FELV, HCM, HD
( with super results)
HCM/DNA - NN -negative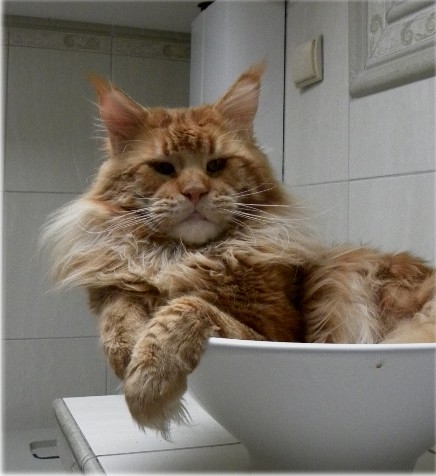 colour : red tabby d22
MOTHER : Amunda Dream Ola d22
FATHER : Fin*Escape's Never Ending d22
Perfect son of our Never. He is extremous in type: he has a large super long square muzzle and strongly built chin as his mother !!!!!!!!. This chin is incredible and gives him wild looking.
His very big ears are well-placed with big tips,too. He is of a very strong built: a very long in body with a very high legs ,a very long tail.His intensive orange colour is very beautiful
His weights 11 kg at 2,5 years old.
His character is great : very talktive , very charming , friendly , loves every cats and dogs.

RESULTS ON SHOW

Class 12 ( 3-6 months old kittens )
22.09.2007 Wels Austria L.Burani EX2
23.09.2007 Wels Austria -R.A. Saetre EX2
06.10.2007 A.Platz - Warszawa EX 3
07.10.2007 N.Pahl - Warszawa EX 2
13.10.2007 Ostrava - L.Comorio EX1 , BIV total , Nom BIS ,
Best in Show kitten 3-6 moths old !!!
14.10.2007 Ostrava - T.Boyko EX1 , Nom BIS ,
Best in Show kitten 3-6 moths old !!!